The U.S. Small Business Administration (SBA) recommends that small businesses (those with revenue under $5 million) should designate between 7 and 8 percent of their total revenue to marketing. In their 2021 annual survey of chief marketing officers (CMOs), consulting firm Deloitte found that marketing budgets were averaging roughly 11.7 percent of most businesses' total budget — near a record high.
In that CMO survey, the research team found that business to business (B2B) product industries spend roughly 10 percent of revenue on marketing on average, which is close to what business to consumer (B2C) services companies spend (10.1 percent).
B2B services and B2C products, however, put more dollars into their marketing budgets — 15 and 18 percent, respectively, of their total revenue. Those businesses in the healthcare industry spend around 7 percent of their total budget on marketing.
So, where does that put the senior living industry, specifically continuing care retirement communities (CCRCs, or life plan communities), which are at the intersection of B2C and healthcare? And where exactly should a CCRC's marketing dollars be spent?
>> Related: For Senior Living Decisions, Are You a Planner, Procrastinator, or Crasher?
Marketing to today's consumer
The world of advertising and marketing is rapidly evolving. Within just a few generations, we've seen the vast majority of marketing dollars shift from print and radio to TV and digital — specifically online advertisements.
As a general rule of thumb, most marketers would advise you to spread your marketing dollars across multiple media channels such as:
TV and radio spots
Print advertisements (newspapers, magazines, etc.)
Direct mail campaigns
Billboards
Email marketing campaigns
Paid ads on social media and search engines
Social media posts
The percentage of your budget that you commit to each of these categories depends on your target audience, and a thorough market analysis is needed to make that determination for your business. But for the senior living industry, including CCRCs, it is important to bear in mind that more and more seniors are online — using social media, search engines, and streaming news and entertainment.
>> Related: Are Today's Seniors "Younger" Than Previous Generations?
Seniors have bridged the digital divide
A Pew Research survey conducted in 2021 and released earlier this year paints a picture of the increasingly tech-savvy senior.
75 percent of those 65 and older who took part in the survey report being internet users, and a whopping 96 percent of those 50 to 64 use the internet.
61 percent of those 65 and older own a smartphone, up from just 13 percent in 2012. For people age 50 to 64, the numbers are even higher with 83 percent owning a smartphone now as compared to 34 percent in 2012.
44 percent of survey respondents age 65 and up own a tablet (such as an iPad), versus just 6 percent in 2012. Among the 50 to 64 age group, tablet ownership went from 10 percent in 2012 to 53 percent in 2021.
45 percent of people age 65+ use social media, as compared to just 11 percent in 2012. Among those 50 to 64 years old, social media use jumped from 37 percent in 2012 to 73 percent in 2021. YouTube and Facebook were the most popular social media sites for seniors.
With these facts in mind, it may be wise for CCRCs to consider cutting back on some of their print advertisement spend and boosting their digital marketing spend.
>> Related: Marketing CCRCs to the Next Generation of Retirees
Marketing your CCRC to the tech-savvy senior with MoneyGaugeTM
Typically, the goal of your online marketing should be to drive traffic to your website where a prospective resident can learn more about your community's amenities and services. Once there, engaging photography and graphics, clear navigation, and helpful, educational content are all must-haves for today's tech-savvy senior. Enticing calls to action allow prospects to take the next step into your sales funnel.
Of course, one of the big questions that most prospects have about any senior living community they are exploring is "Can I afford this?" While pricing can be a sensitive and complex topic, you can help your site visitors better understand the relationship between their finances and a CCRC's cost by embedding myLifeSite's MoneyGaugeTM tool into your website.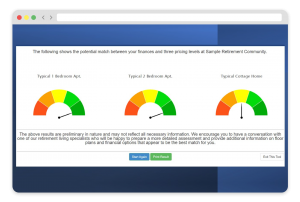 Customized to your community's specifications, MoneyGauge gives your website visitors a preliminary assessment of lifetime affordability at your CCRC (or other senior living community: rental, hybrid, 55+, etc.). Essentially a pre-qualification tool, which securely captures salient personal information for your team's use, MoneyGauge saves valuable time on the front-end for both parties — the prospect and your sales group — and helps you connect with those seniors who are a good financial fit for your community.
MoneyGauge is a helpful resource for your site visitors as well as an excellent way for your community to gather contact information for your best prospects!
>> We invite you to learn more about how MoneyGauge can benefit your prospects and your sales pipeline by scheduling a free demo today!